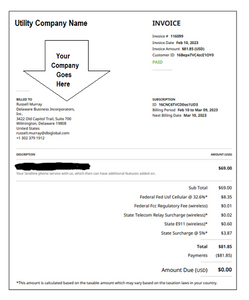 NEW SERVICE as of February 6, 2023
EIN NUMBER IS NOT REQUIRED
4-7 DAY SETUP - LESS WAITING, FASTER SETUP
2 DIFFERENT BILLING PLANS - MONTHLY OR ANNUALLY
PREPAID WITH DEBIT OR CREDIT CARD
Our services includes the following:

Our phone company will setup a USA Phone Number at the billing address you provide. Optional phone features include call forwarding to any number in the US or internationally*. *Additional international long distance fees will apply.
Our USA phone company will invoice your company name at the billing address you provide.* (We will require a completed USPS form 1583 to forward the phone company invoice to you.)
Utility company provides a customer portal with the ability to create a PDF invoice.

This is a landline service. There is no mobile phone app. The USA Phone Number can be forwarded to any other number in the world. Unlimited calls within the United States. Outgoing calls to international numbers will be charged per minute rates based on the country being called which vary from country to country.